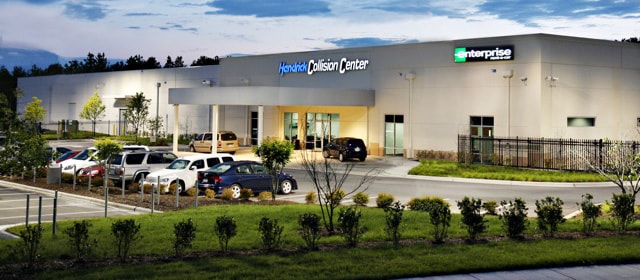 Welcome to Hendrick Collision Center, Call today to schedule an appointment!

(704) 720-3900

Auto Body Repair Shop in Concord
We Service ALL Makes and Models! We also partner with:
Click Here
for a FREE Estimate!
About Our Collision Center
Are you looking for an auto body repair shop in Concord? Do you need to locate a Concord area collision repair center? You have located the right dealership! 
The Hendrick Collision Center Body Shop is a Rick Hendrick owned facility and has been in business for over 20 years. Our body shop has received the Hendrick Elite award for six consecutive years (2003-2008). We are deeply devoted to providing the best quality repairs and the best customer service in the business and we always strive for A+ customer.
At Hendrick Collision Center we can help fix your Honda (or other manufacturer) back to like-new condition. The professional auto body repair staff at Hendrick Collision Center takes pride in the work we do. We will make sure your collision repair is done on time and on budget. We also offer a full service car repair department in Concord if you need more than just collision repair. Feel free to schedule your Concord area collision repair by filling out our auto body repair appointment form. We look forward to helping you in your automotive needs.
 What makes our body shop better than our competitors is that we provide:
• Free Estimates
• Fluent Spanish speaker on staff
• Offer a lifetime warranty on all of our repairs & paint jobs
• Our painters and body technicians have over 20 years of experience
• Certified I-Car Gold Shop
• ASE Certified Master Mechanic on staff
• Direct repair facility for major insurance companies
• Capability to work on all types of vehicles
• Unmatched access to over 50 vendors for parts
• We work together with Enterprise to accommodate all of our customers with rental vehicles when needed.
Our Services 
OUR SERVICES INCLUDE:
• Body Repair and Refinish
• Alignment
• Collision Repair
• Glass Replacement and Repair
• Dent Removal & Paintless Dent Repair
• Head Lamp Restoration
• Suspension/Steering Alignment
• Lifetime Warranty on Paint and Labor
Free Estimates 
We will provide a free estimate at a time that works for you! Please contact us and we can schedule a free estimate.
The estimate only takes less than an hour and we will review:
-The damage to the vehicle 
-Repairs needed
Please bring:
-Insurance Information
-Information about the accident
Insurance Claims 
After an accident you should:
1. Call your insurance company first and tell them you would like your vehicle repaired at Hendrick Collision Center. 
2. Contact us to schedule your free estimate.